Radiology
We provide inpatient and outpatient radiology imaging services to our esteemed clients to meet their diagnostic needs.
le mémorial is among the best choices for your radiology services in Uganda. We provide inpatient and outpatient radiology imaging services to our esteemed clients to meet their diagnostic needs.
The radiology service is certified by atomic energy council. The department strives for quality radiology services by ensuring best diagnostic outcomes to meet the expectations of our patients and referring clinicians.
The radiology department is open 24hrs with a full time technologist for all your radiological procedures.
Our advanced imaging modalities of
DR X-ray machine
Ultrasound scan machine.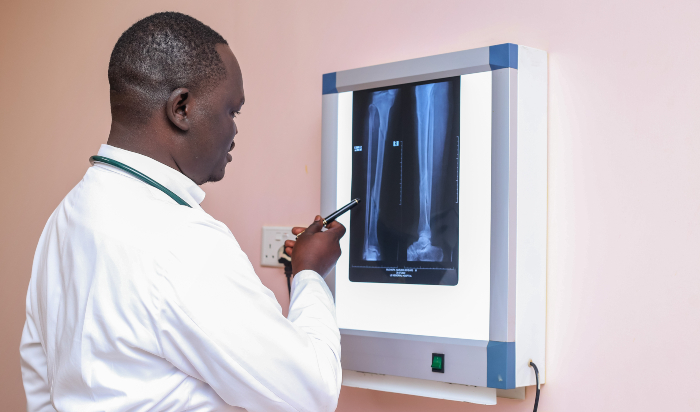 A general x-ray examination of the body is used to help diagnose a wide variety of conditions.
Our computerized system enables quick image processing and delivery to the patient and clinicians.
X-ray technology is used to examine many body parts including the following.
Bones – For fractures and infections.
Arthritis –X-rays can reveal signs of arthritis on joints.
Bone cancers – X-rays can reveal bone tumors.
Chest – Lung infections or conditions such as pneumonia, tuberculosis, lung cancer among others.
Enlarged heart – Which is a sign of heart failure.
Abdomen – For digestive tract problems. Barium studies in terms of barium swallow, barium meal and barium enema can help to reveal problems in gastrointestinal tract-GIT.
Other radiological special procedures we do using x-rays include Hysterosalpingography (HSG), cystourethrography (CUG), intravenous urography (IVU).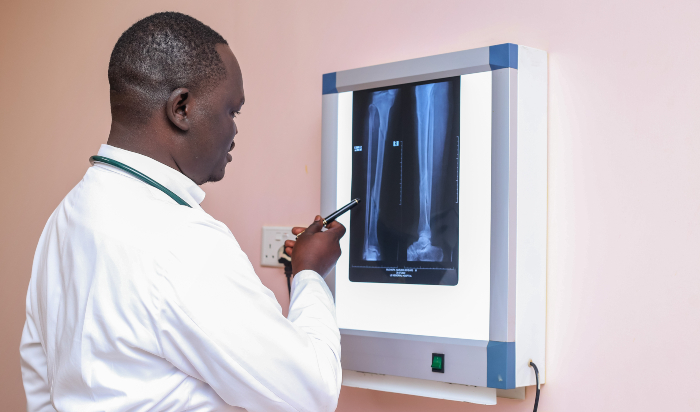 Ultrasound scan is a safe, painless non-invasive examination that creates images of organs, glands, abnormal lumps and other structures like muscles, tendons, and ligaments.
It's used to check unborn babies during pregnancy and in many other situations.
As routine for pregnant women to monitor growth of an unborn child and check for abnormalities
To diagnose problems of internal organs like the liver, spleen, kidneys, gall bladder, neonatal brain, testis among others
To detect structural abnormalities such as heart valves as done in echocardiography.
To also diagnose problems of external organs called small parts e.g. breasts, eyes, thyroid gland, scrotum, penis, and vessels.
Our strength is commitment to offering quality services that exceed the needs of our clients, referring clinicians and staff. We strictly observe radiation safety measure to ensure that we uphold patient safety at all times ensuring that radiation safety measures are adhered to at all times.
Yes, if you do not include any other patient in the photographs or in the background of the video without their permission. This is to respect and protect other patients' confidentiality. We will obtain written permission from you before taking any photographs or video of you, and these will only be used to track your progress and for clinical teaching.
Your Medical Record Number starts with LM followed by 9 digits and can be found on many of your hospital documents provided during your visit; or you can present yourself to the hospital premises. You must also present a valid identification.
In order to participate fully in your therapies we encourage you to dress in comfortable, casual clothing. All clothing should be labeled with your name. In addition, you should bring:
Any items that were used on a regular basis prior to your illness, such as eyeglasses, hearing aids, dentures, and the appropriate containers
Sturdy shoes or sneakers and loose socks, if appropriate
Loose-fitting pants or sweatpants, shirts that are comfortable and easy to put on, undergarments, bathrobe, and pajamas
A seasonal coat or jacket, to take advantage of our courtyards and pathways
Laundry bag